Custer County, one of Colorado's most beautiful mountain landscapes, honors its rural, agricultural, mining, and western heritage, and seeks to connect its future with its past by protecting local values, preserving community assets, respecting property rights, accommodating managed growth and compatible economic development, and serving as responsible stewards of its inspiring natural environment.
Custer County ranges from the Sangre De Cristo Mountain Range on the west to Wetmore on the east and San Isabel on the southeast. The County seat is Westcliffe at an elevation of 7888 feet. Located south of Cañon City and west of Pueblo, Custer County has a population of approximately 4,000 people.
Custer County is a popular outdoor vacation spot, boasting several 14,000 foot peaks as well as numerous fishing, hiking, hunting, and camping areas.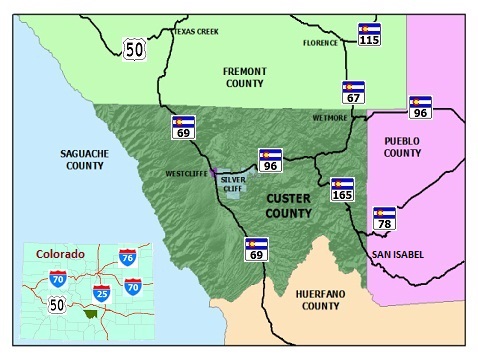 PUBLIC NOTICE
The Board of Custer County Commissioners will be accepting letters of interest for a position on the Custer County Tourism Board. Please submit a letter of interest to the Custer County Commissioners Office, PO Box 150, Westcliffe, CO 81252 or email:
brenda@custercountygov.com
by Friday, June 1, 2018. Please include any qualifications - resumes will also be accepted.
Emergency Notifications

Custer County has contracted with CodeRED to deliver time-sensitive messages via voice mail, e-mail and text to targeted areas or the entire county during emergency situations or disasters.