ELECTION INFORMATION
The 2018 Custer County Primary Election will be held on Tuesday June 26, 2018. All elections will be mail ballot elections. This means that everyone who is an active voter will automatically receive their ballot in the mail. Ballots cannot be forwarded, so if you plan on being out of town during the election, make sure that we have a mailing address so that we can send your ballot to you.
If you do not wish to vote using your mail ballot, you may surrender that ballot to the Clerk's Office and vote on the voting machine.
Voter Registration
You may register to vote several different ways. You can go online to www.govotecolorado.com and register to vote or update your voter information. Or you can download a voter registration form, fill it out and either bring it by our office; mail it to Custer County Clerk, PO Box 150, Westcliffe, CO; or email it to peggy@custercountygov.com.
Deadlines for voter registration
Voters may register to vote up to and on Election Day as long as they have resided in the State of Colorado for at least 22 days.
If you register electronically at www.govotecolorado.com or mail your registration, we must receive it no later than Monday June 18, 2018 in order for you to receive your ballot in the mail. After that date, you will need to come in to the Clerk and Recorder's Office in order to pick up your ballot or vote on the voting machine.
Date ballots will be mailed -
To military and overseas voters (UOCAVA) – May 11, 2018
To all other voters - Week of June 4, 2018
Last day to receive a ballot by mail – June 18, 2018
Lost or damaged ballots
If your ballot gets lost or damaged you may get a replacement ballot at the Clerk's Office. For information, call 719-783-2441.
Return your ballot to: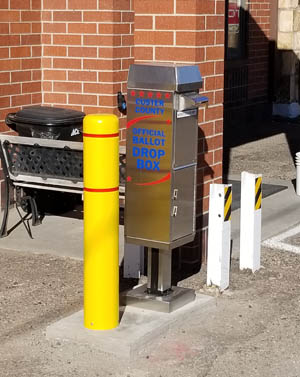 Ballots can be mailed or brought in to the County Clerk's Office and deposited in the ballot box. You can deposit your ballot in the ballot box during regular business hours Monday thru Friday from 8:00 am to 4:00 pm. Additionally, there is a secure ballot drop off box, located by the back entrance to the Court House, for the ease of after-hours drop-off. The Voter Service and Polling Center, at the Custer County Court House, will open on Monday, June 18, 2018. It will be open during regular business hours, plus one Saturday, June 23, 2018 from 8:00 am to 12:00 pm. The ballot drop-off location in Wetmore is located on 95 County Rd. 393, at the Wetmore Community Building. It will be open on Saturday June 23, 2018 from 8:00 am to 12:00 pm. It will also be open on election day, June 26, 2018 from 12:00 pm to 6:00 pm.
Please make sure to sign the back of your return envelope.